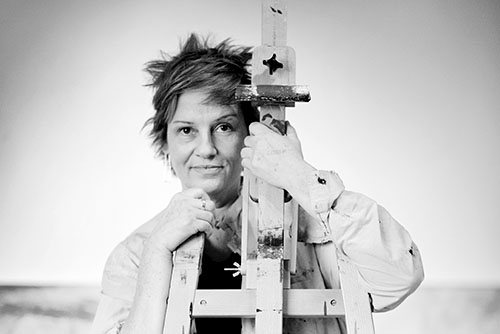 About
"IT'S NOT ABOUT WHAT YOU LOOK AT… IT'S ABOUT WHAT YOU SEE."

Brushing, carving, scraping and pouring various materials, gels and mediums on canvas aids in creating an organic textured feel that hopefully captures and holds the viewers eye. Painting and paintings are emotional to me. I believe that when you walk into a room and you notice the art on the walls… and you really want to" look" at it… then you are in front of a great a piece of art.

After 20 + years in the corporate world, I decided to embrace my creative side and take the leap into the role of full time artist. I had been painting part time since the mid 2000's and the more I painted, the more I loved painting and felt the benefits of this creative outlet. Serendipitously my formal education in psychology/human sciences has been a great accompaniment to my work as an artist via the use and understanding of colour, flow, visual perception and human personality.

Laura's work can be found in institutional and private collections in Canada, the United States, the United Kingdom, Beijing and Australia.